From 20 to 22 October 2019, we took part in the Natexpo 2019 Trade Show at Paris Nord Villepinte. We have been participating in Natexpo for almost 10 years now!
Record edition for the International Trade Show on the latest organic trends in Paris!
Following the previous edition in Lyon in 2018, Natexpo returned to Paris in 2019. And this year, there were 1,115 exhibitors, spanning over a surface area of 35,500 m²! Exhibitors came from all over the world which meant that 25% of the exhibition area was occupied by foreign companies.
For three days, NATEXPO 2019 attracted nearly 17,600 visitors from 80 countries around the world to Paris Nord Villepinte! This edition posted a record attendance, up 19% on the previous Paris edition in 2017.
Natexpo 2019 © Nicolas Rodet
Like every year, many events were organised over the course of the 3 days. These events were a huge success for both exhibitors and visitors. They allowed buyers and decision-makers to get up-to-date on the latest trends, to seize new opportunities and also to build new partnerships. Among the organised events, there were:
More than 1,200 business meetings
"Le Lab", devoted to the latest ecological and environmentally friendly initiatives.
The Presentation of the NATEXPO Awards, which rewarded 14 innovations in 7 separate categories.
Conferences held over 3 days by legitimate experts in the field of organic farming (NATEXBIO, BioLinéraires, Cosmébio, regional cluster networks, Agence Bio, etc.)
The Ecolive village at Natexpo 2019!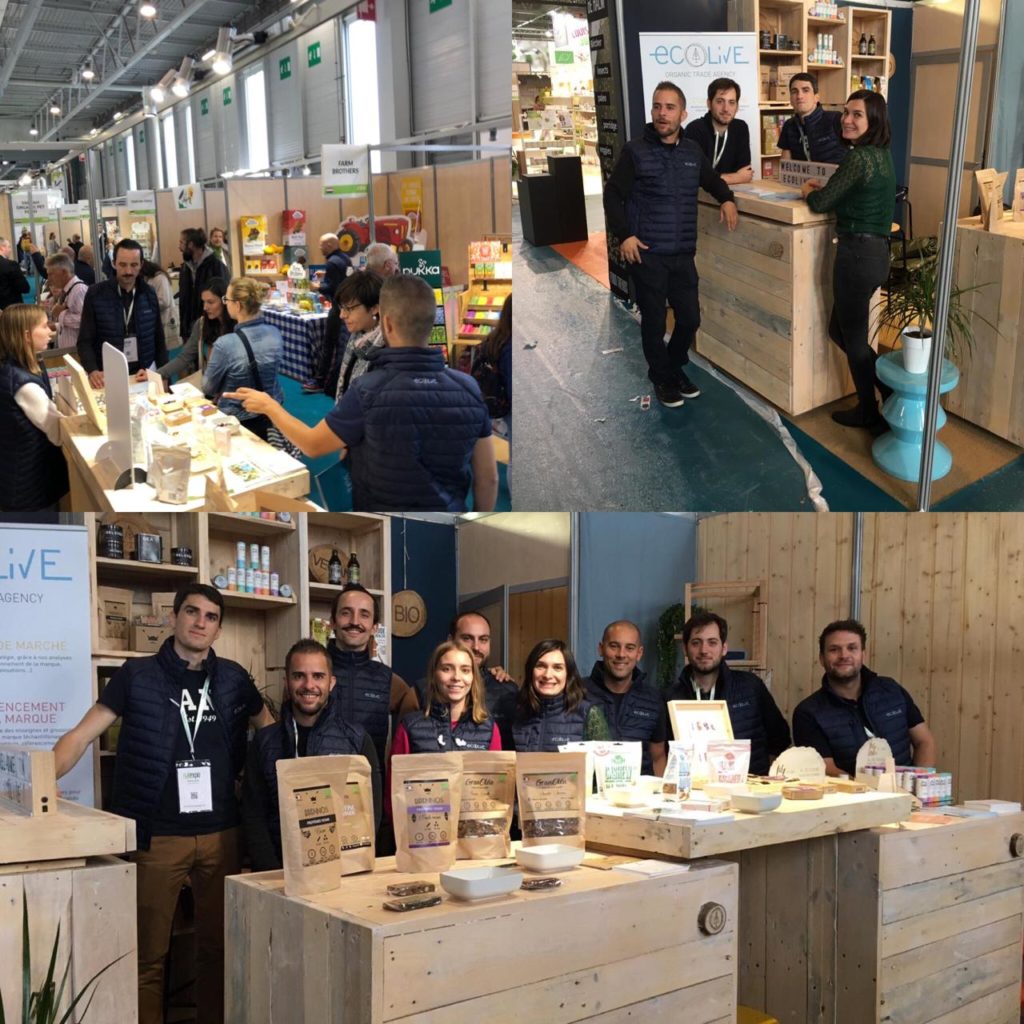 For the first time this year, we created an ECOLIVE village, bringing all the brands that we collaborate with, together in the same place! You could come and meet us at stands J90, J91, J94, J95, J96 and J99 where you could have a look at our brands:
Equiori (organic chocolate made from Colombian cocoa)
Pakka (organic Fairtrade nuts: cashew nuts, peanuts, Brazil nuts, etc.)
We Love The Planet (100% natural deodorants)
Brennos (energy bars and organic super food, made in France)
Pukka (organic teas and infusions)
Farm Brothers (organic cookies)
Taifun (organic tofu)
Yarrah (organic pet food)
Bio Verde (antipasti, cheese, delicatessen, spreads…)
But also:
Sonett, our brand of cleaning products at stand D31
Marinoë, our seaweed food producer at stand C110
This edition was the perfect opportunity to get feedback once again on each of our products from wholesalers, organic stores or consumers! For Ecolive, Natexpo was also an opportunity to chat with amazing brands for potential future collaborations!
We would especially like to thank the brands, wholesalers and of course the stores that our sales team meets up with throughout the year! Thank you all for coming to meet us over these 3 days at Natexpo.
Next year, you can visit the Ecolivevillage at Natexpo Lyon between 21-22 September 2020!
Follow us on our LinkedIn page!
Cornelia,